Output
Throughout its lifetime, the PANDORA project will create a variety of results reaching from scientific papers (e.g. about new biological findings and assessment methods) to outreach materials and, finally, PANDORA's Box of Tools. Outreach materials such as flyers are available for download; research results can be accessed through the "scientific paper" section.
Click below to view our results and outreach materials.
PANDORA's Box of Tools
PANDORA's output will be synthesized to produce PANDORA's box of tools for industry, RFMOs and fisheries scientists. 
The toolbox will be an interactive website including a variety of resources ranging from simple meta-data and links to preexisting tools to more complex, front-end platforms for displaying outputs from improved assessment and economic models (e.g. short- to long-term changes in distribution and/or productivity of fish stocks as well as economic trade-offs associated with different management strategies).
Tools included will be based on scoping exercises with fisheries industry, managers and policy makers and will be specific to a variety of audiences such as
improved code for stock assessment models for fisheries scientists,
region- and stock-specific decision support tools for managers (RFMOs),
data portals for fishers,
online training lectures,
best-practice manuals (e.g. survey and commercial data collection techniques, stock-specific optimal survey designs), and
a publication library.
An access link to PANDORA's Box of Tools will be made available here as soon as possible.
Scientific papers
2019
Marandel, F., Lorance, P., Berthelé, O., Trenkel, V.M., Waples, R.S. & J.-B. Lamy (2019): Estimating effective population size of large marine populations, is it feasible? In: Fish and Fisheries, Vol. 20, pp. 189-198.
Link: https://onlinelibrary.wiley.com/doi/full/10.1111/faf.12338
---
2018
Alvarez-Berasteguia, D., Saber, S. Ingram Jr, G.W., Díaz-Barroso, L., Reglero, P., Macías, D., García-Barcelona, S., Ortiz de Urbina, J., Tintoré, J. & F. Alemany (2018): Integrating reproductive ecology, early life dynamics and mesoscale oceanography to improve albacore tuna assessment in the Western Mediterranean. In: Fisheries Research, Vol. 208, pp. 329-338.
Link: https://doi.org/10.1016/j.fishres.2018.08.014 
---
Maria Sokolova, Kurt Buchmann, Bastian Huwer, Per W. Kania, Uwe Krumme, Anders Galatius, Jakob Hemmer-Hansen, Jane W. Behrens (2018): Spatial patterns in infection of cod Gadus morhua with the seal-associated liver worm Contracaecum osculatum sensu stricto from the Skagerrak to the central Baltic Sea. In: Marine Ecology Progress Series, Vol. 606, pp. 105-118.
Outreach materials
In this section, you can find and download all public outreach materials that will be created throughout the duration of PANDORA. Feel free to distribute these materials within your network, at events, and any other awareness-raising activities related to the project.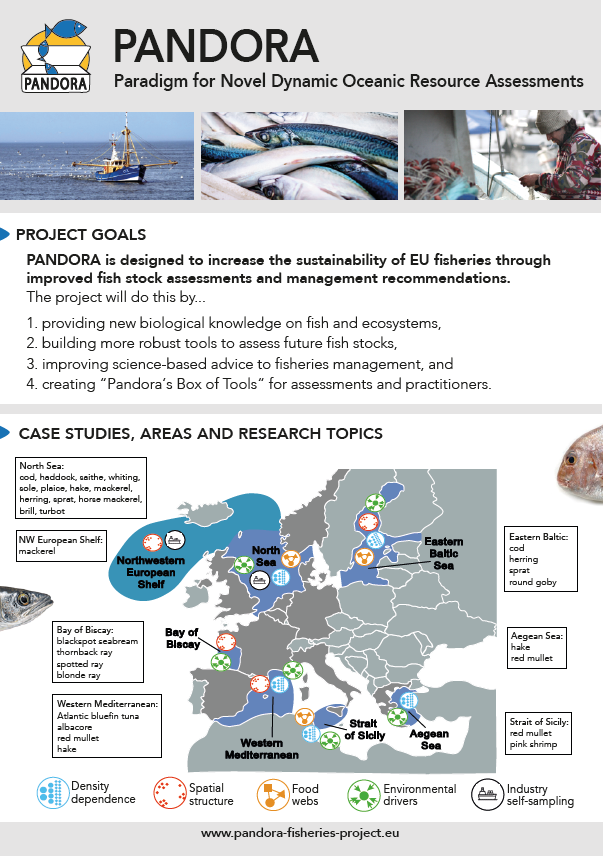 ---